An incredibly sweet black and white manx (nubbin tail) wandered into our feral colony a couple of weeks ago. I'm guessing he's around one to two years old. Through the assistance of Indy Feral, he has been neutered and is now available for adoption at the Indianapolis Humane Society. His name is Howard. He's not up on the web site yet, but they have adoptions for 17.76 through tomorrow. That's quite a bit off their normal adoption rate (which I believe is near 100 dollars now).
Are you watching
RuPaul's Drag Race
on the Logo channel? You should be. It was way more fun than I imagined it would be. The rungay guys do a great review here.
http://tomandlorenzo.blogspot.com/2009/02/bitch-im-here-i-took-off-work.html
You can view the episode here.
http://www.logoonline.com/video/index.jhtml?id=1603692&vid=336606
My thoughts after watching the first episode.
I LOVE, LOVE, LOVE me some Nina Flowers. That bitch is fucking fierce. The jury is still out on the rest of them for me. I was sad to see the big girl go first, but I have seen several big girl performers better than Victoria "Pork Chop" Parker.
Tammie Brown: Okay, I'm ALL about some retro glam, but there is something about her that bugs me. She's just...off. She's like a cross between Bette Davis, an alien, and Lucille Ball. I might end up loving her-we'll see.
Santino Rice as a judge? What does he know about drag? Or fashion for that matter? Chris March would have been a much better judge, but I guess he was still taping his
Project Runway
season when this was being taped.

Okay, I've been in denial about my growing bra size as I've been gaining my weight back. I finally went and got properly fitted again last night. No more fixing the strap on the left side or fixing the back on the right side all fucking day long.

It's amazing how much less I want to neckpunch people when I'm wearing a properly fitted bra.


Anyway, back to the show. I can't believe they eliminated the girl who will forever be known as "Twat Shot." Her and that crazy rapper chic who did a rap for Bret that was written on the back of informational brochures for genital herpes and gonorrhea. SRSLY. Not that I would have been able to stand them much longer, but they sure were entertaining. Looks like we'll still have plenty of entertaining skanks left though.

This has also made me realize that not everything should be viewed in HD. Ew.



Uhm, I hate to admit it, but I get waaay too into the Rock of Love stuff. The new one-with the bus full of skanks? Awesome. Next week, they roll into my hometown. The tour hits Indy and they actually filmed some scenes in Greenfield (where I was born & raised). Bizarre. I used to ride my bike past the chapel in which they filmed in order to go to the library all the time. My girl scout house is next to it, and my brother lived on the other side. WEIRD.
http://indyferal.org/
This is the organization that has been helping with our feral colony. They are amazing; for 20 dollars per cat, they spay/neuter, give a rabies vaccine, and give them frontline for fleas. They will do this whether you have the money or not, but I would LOVE to be able to at least pay for our colony. In August, they took care of 6 animals, and in two weeks, they are coming to help10 more. I'm
hoping
that this will be most of them. I'm having a rough time keeping count since they keep spawning (also trying to find homes for the babies before they get too wild).
Here's the thing, we've been more than just a little short on cash lately.
So, I'm asking for help from my fellow animal lovers.
If you are interested, you can donate directly to the site; however, then it wouldn't necessarily be earmarked for our specific colony. So, I'm asking for either paypal donations (then I will write a check directly to them for those funds) or checks written directly to Indy Feral and then sent to me via snail mail so I can give them directly to my Indy Feral contact. I've been told that checks written directly to Indy Feral can be considered tax-deductable charitable donations.
(
Pics of some of our feral babies....
Collapse
)
So, I'm asking for your help. Anything you can give would be fantastic. Even if I end up getting more money than is needed for our 16, all donations will go directly to Indy Feral. Hopefully, this will curb all of the "omg, please adopt this kitten" posts in the future, too. :)
Please contact me directly at
sillygrrl25@yahoo.com
if you are interested in helping (also comment so I make sure your email doesn't go to spam). I'm also leaving this post public if you'd like to share it with others.
Thanks!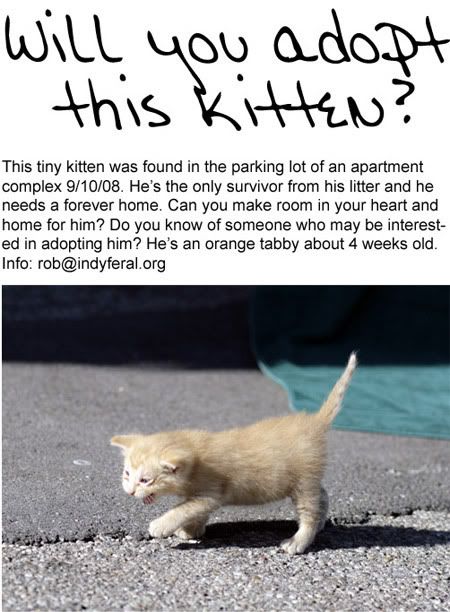 This is Dewey's nephew. He is currently being treated with antibiotics for his eyes, but seems to be otherwise healthy.